Introduction
Hello! I am Professor Elizabeth McAlister, of Wesleyan University, and this is a companion website to my book, Rara! Vodou, Power, and Performance in Haiti and its Diaspora.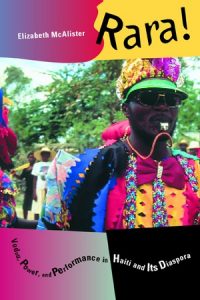 Like a lot of people who visit Haiti, I have become involved in a long-term relationship with the country. I was fascinated immediately with its culture—especially the music, religion and art of everyday people. I would like to start a new cliché about Haiti: instead of its being known as "the poorest country in the Western Hemisphere," I think it should be considered "one of the culturally richest countries in the Western Hemisphere." I have researched and learned a little bit about the vibrant culture of Haiti, and published a book on the Rara festivals, Rara! Vodou, Power, and Performance in Haiti and its Diaspora, plus several albums and articles. You can hear the entire CD that accompanies this book here.
After my book on Rara came out in 2002, internet technology made it possible to display the photographs and videotape that I made in Haiti, together with my friends and collaborators, especially Chantal Regnault, who walked with me in numerous Raras all over Haiti. This website also treats its viewers to an excellent, 15-minute film by Verna Gillis, the photos of Syndey Byrd, and sections of the recent film by Jeremy Robins. You will see many Rara bands, including La Belle Fraicheur de l'Anglade in Fermathe, Mande Gran Moun in Darbonne, Rara La Fleur Ginen in Bel Air, Rara Inorab Kapab in Cite Soleil, and Rara Ya Seizi in Verettes.
My hope is that people interested in Rara will be able to use this website—students, musicians, artists, travelers, other researchers. My idea is that it will serve as a companion-piece to my book on Rara. I therefore do not include large sections of the book, but rather short sections, and then refer the viewer to sections of the book for further information. I have in mind particularly college students, who may be assigned to read the book in their classes. If you are such a student, I hope you find the book and this website useful!
Film
Here you can watch a very informative 15-minute video documentary on Rara. It was produced by Gail Pellet and Verna Gillis, director of the organization Soundscape, in New York City. Ms. Gillis first encountered Haitian Rara when she visited the island to record and film its folk music in the late 1970's. In 1978, she completed this videotape about Rara, which was first shown at the Brooklyn Museum as part of a show on Haitian art. Ms. Gillis also recorded an album of carnival music from Haiti and the Dominican Republic, which was issued by Folkways, called "Caribbean Revels: Haitian Rara and Dominican Gaga."
Credits
We have always tried to ask permission when photographing people, but obviously in a public, parading festival, it has not always been possible. It has certainly not been possible to contact all the people whose images and music from the 1970s forward are offered here. Anyone who disapproves of being represented here will be removed upon request.
Alternatively, anyone who approves of being depicted here and would like his or her name listed and credited, will be added upon request. Please let us know exactly which images you would like to list your name under, with the spelling of your name the way you would like it to appear.
CONTRIBUTORS:
Web Site Author: ELIZABETH MCALISTER, Professor of Religion and African American Studies, Wesleyan University
I have been studying Haitian culture for years now, first as a doctoral student at Yale University, and now as a Professor of Religion at Wesleyan University. I have produced two albums of its sacred music: "Rhythms of Rapture: Sacred Musics of Haitian Vodou" on Smithsonian Folkways and "Angels in the Mirror: Vodou Music of Haiti"
Some of the text on this website is taken from my book, Rara! Vodou, Power, and Performance in Haiti and its Diaspora (University of California Press, 2002), and this site is meant as a companion piece to the book.
This website features the stunning photographs and video footage by Chantal Regnault. It was my unbelievable good fortune that Chantal took an interest in the Rara festival and we walked through many Raras together. This well-known veteran photojournalist is a French born photographer who has lived in the United States since 1971 and has lived part-time in Haiti since 1979. She holds an advanced degree in French literature from New York University. Her widely published photographs have appeared in major magazines and newspapers, including Vanity Fair and The New York Times. Now, she has made her work available for others to see here on this site. You can see more of her work at:
http://www.artmediahaiti.com/amh/c423.html
The excellent, 15-minute film Rara!, made during 1975-1978, is the best documentary ever produced on the festival, and serves as a wonderful introduction to the subject. It is produced by Verna Gillis and Gail Pellet. It is researched by Verna Gillis, shot, edited and narrated by Gail Pellett, with sound and technical production by Tom Zafian, and production assistance from Rodney Flambert. We link it here by kind permission of Verna Gillis, who holds the copyright. Verna Gillis' website at Soundscape is
http://www.soundscapepresents.com/
Clips from the compelling documentary "The Other Side of the Water: The journey of a Haitian Rara band in Brooklyn" are courtesy of filmmakers Jeremy Robins and Magali Damas. I thank them for their generous permission to use clips from this new film about the Raras in New York City. You can see their website at:
http://othersideofthewater.org/
Some still photographs have also been graciously shared by Synday Byrd. Syndey is best known for her fabulous photographs of New Orleans, where she has lived for years. Naturally, Syndey saw a similarity between Louisiana and Haitian culture, and took some of these beautiful pictures.
http://www.syndeybyrdphotography.com/
The audio recordings presented here were published on an audio CD in my book on Rara. Some of them I recorded in Haiti; I was helped by my field assistant Phenel Colastin. Then, my colleague Peter Hadley mixed the CD in 2001 at Wesleyan University, with help from my husband, Holly Nicolas. We used Soundedit computer software. Others of the recordings were recorded by Verna Gillis and released on Smithsonian Folkways' album Caribbean Revels: Haitian Rara and Dominican Gaga, a great album of Rara music from the 1970s. All tracks are used with permission.
This website is dedicated to the memory of my uncle, Tim Asch, who first got me thinking…
Thanks to Olivia Dugan (class of 2020) for designing and creating this website.